Allegro.

Gamer.
Siren.
Creator.
---
Allegro (they/any) is a queer nonbinary mixed Black-AAPI content creator and Twitch affiliate. There you can find them playing variety games, participating in Mutual Aid or charity streams, and performing in TTRPG Actual Plays.
This silly siren is also passionate about singing, creative writing, building equitable and magical worlds, board games, coastal ecology, and environmental justice.


Booking is currently ★ OPEN ★

Mutual aid, charity events, and Actual Play opportunities will be prioritized! Please contact through Discord, Twitter, or email.
Streaming.
Twitch streams make up most of Allegro's online content. Join us for visual novels, farm sims, adventure games, karaoke, and more! If you can't join the fun live, stream VODS are available for a limited time on Twitch and clips are uploaded to Youtube and TikTok.
Interested in joining a small community of queer friendly nerds and fans of the Music Box?
Join our Discord server! Get stream schedules, sneak peaks, and additional Discord-only events!

Allegro full body design by @lililunna_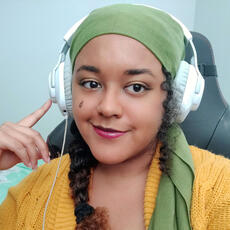 TTRPGs.
Content and Appearances
Support.
Every additional follow, share, and recommendation goes a long way in my ability to make content and attend events!
If you're willing and able to support my content creation financially, please consider giving me a Ko-fi, tipping on Pally.gg, or sending a gift through Throne!
---

Allegro "Wow!" Emote
by @MiruuArt